Corrosion-Proofing Technology
Materials with a large amount of iron and steel generate corrosion upon being placed in natural conditions. Our company guarantees the durability of all types of metal products, and actively works on the research and development of corrosion-prevention in order to provide even higher quality products to our customers.
Corrosion prevention in exposed air
Benchmark of corrosion-preventive coating
As the goal of developing new corrosion-preventive technologies of steel structures exposed to the elements, we carry out exposure tests on subjects in seaside areas where the corrosion environment is severe.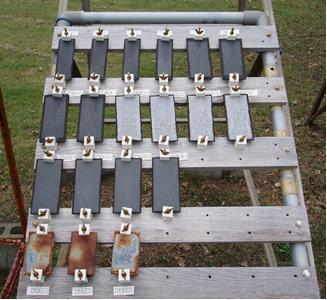 Exposure tests of every type of corrosion-preventive coating
(2007 onwards)
Tokyo University of Marine Science and Technology, Shimizu test site
Past research results
The technological development and practical application for steel bridges listed below has come to be. On November 2009, bridgework was integrated in the (Co.) IHI infrastructure system, therefore the copyright to these technologies, as well as the experimentation facilities, have been transferred to them.
"Box girder interior rust prevention system"
A technology that allows labor saving from coating through the humidification of the internal space, together with the increase of the degree of airtightness of the bridge box girders. Our system makes use of the rust-prevention properties already present in actual bridges.
"Bridge enclosement system"
We have developed a technology for bridges with column covers, such as reverse surface sound absorbing boards, that prevents the corrosion of the bridges' main body through the humidity of the inside of the covers.
To make the best use of the know-how and these technologies related to air corrosion which we have developed for years, we also actively promote the corrosion-preventive products and methods of other companies.
Bacteria corrosion of Stainless steel
Bacteria corrosion is frequently generated on every type of steel structure, plant or piping. There are many cases where it causes hazards to these installations. Our company gives attention to the bacteria corrosion of stainless steel, investigates its outbreak, and in order to establish a method for its prevention, together with analysis of the corroded sample, carries out every type of corrosion experiment.
In corrosion experiments, observation of the mechanism of corrosion, measurement of the corrosion potential, analysis of the corroded product and analysis of the biofilm DNA is carried out.
Stainless steel bacteria corrosion samples
| | |
| --- | --- |
| Bacteria corrosion of stainless steel conduit pipes | Remains of microbes in tuberculosis |
Field Corrosion tests
Field Experiment site

Ennobling of corrosion potential

Reviving corroded steel pipes